Denver Property Management
What you need to know about Denver property management and real estate investing
Pros and Cons of Owning Denver Investment Real Estate
Denver is a big place and can often also mean surrounding communities. Therefore, for the purposes of this information we are referring to "Denver" as the downtown area and the immediate city area within Denver city limits.

The short answer is that Denver real estate is booming! Both the rental market and the sales market seem to hit new records high each month.

If you are considering investing in Denver real estate, one question you must ask yourself is how much more upside is there? When compared to East coast and West coast real estate prices Denver is still low. And given the migration into Denver from the East and West coast - we believe the Denver market is stable and will continue to appreciate (but at a slower rate than the past few years).
One risk associated with downtown Denver investing is that you will be competing with a lot of new class-A multi-family rental product. Denver may not be 'overbuilding' yet; but they are building at a very fast pace.

If you are looking for a stable market, amazing amenities, pride of ownership and very strong trending rental market - Denver is your place for a long term buy and hold.

Pros
Growing market

Influx of new residents each month

Community amenities

Lower than average crime rate

Community amenities

Cons
High cost of living
Lots of new multi-family class-A construction may be sign of overbuilding

CAP rate (investment rate of return) is lower than some other areas

Overall Denver Real Estate Investment Rating
A-
Denver Investment Rental Property Fast Facts:
Average Denver Home Price: $377,500
Real estate appreciation over past 12 months: Up 10.2%

Average Denver Household Income: $51,800

Percentage of Denver homes that are rental properties: 50.3%

Denver Resident Median Age: 34
Poverty Level: 18.3%

Median Denver Housing Rental Rates
+

Denver Rental Trend Summary
+

Denver County Rent Trends By Bedroom
+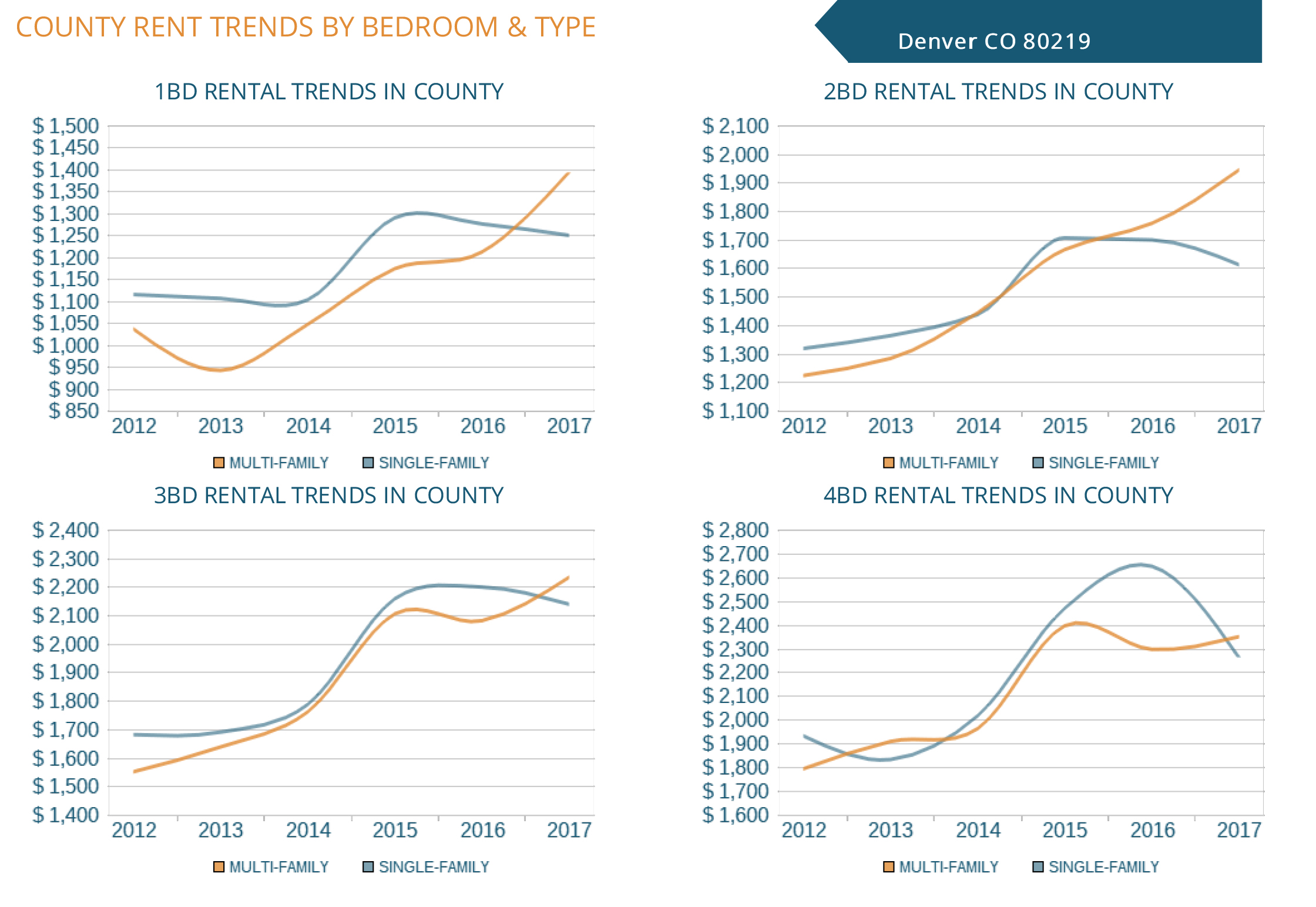 Top 5 Denver property management companies – listed alphabetically
Assured Management
Colorado Realty & Property Management
Echo Summit Property Management
Grace Property Management
Integrity Realty & Management

Inquire About Our Services
303-255-1990
How much will my Denver property rent for?


Click to receive a free custom rental analysis quote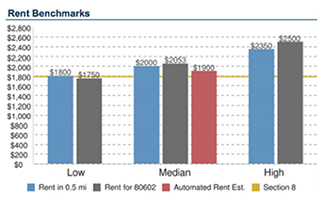 Your free custom report is just a few clicks away!